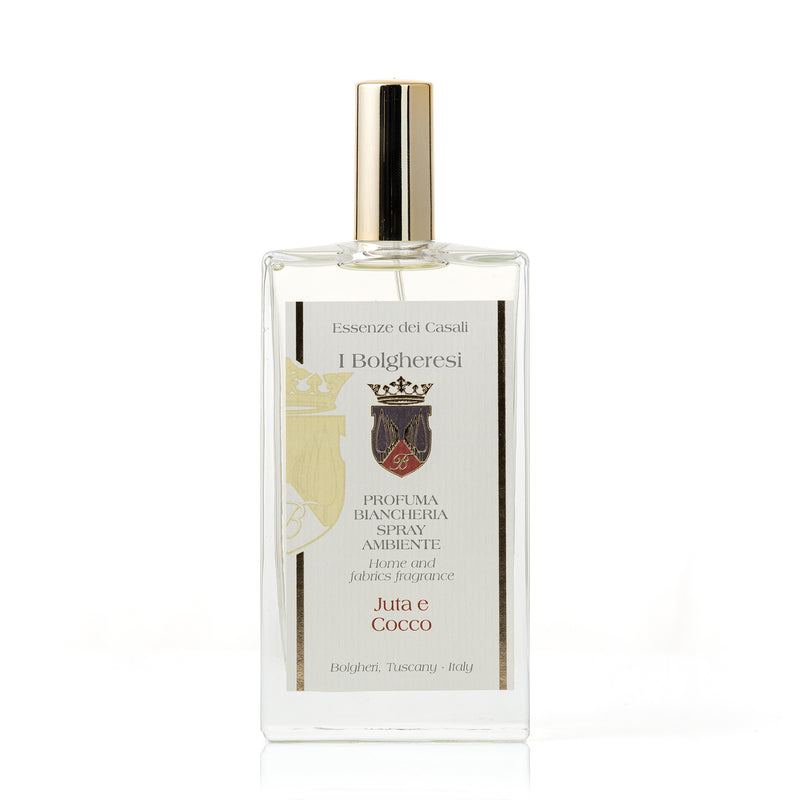 Yuta and coconut home and fabrics fragrance
An enveloping fragrance that takes shape thanks to the sinuous embrace between the sweetness of coconut milk and the flowery heart notes, made more lively by bergamot. The home and fabrics fragrance is a versatile solution to refresh the environment and fabrics from unpleasant odours quickly and easily.
OLFACTORY PYRAMID
Top: coconut, bergamot
Heart: rose, hemp
Bottom: vanilla, musk, cedar wood

Alcohol Denat., Aqua, Parfum.
Contiene: Benzyl Salicylate, 3,7-dimethyloctan-3-ol, Reaction mass of 1-(1,2,3,4,5,6,7,8,(+8a)-octahydro-2,3,8,8-tetramethyl-2-naphthyl)ethan-1-one.

UFI: ADA0-6016-D000-Q4KX
How to Use
Spray the fragrance in the air or on your fabrics to give them a lasting and delightful freshness.
Warnings
Keep out of reach of children. Keep away from heat, sparks, open flames, hot surfaces. In case of fire: Use carbon dioxide or powder extinguishing agents for extinction. If medical advise is needed, have product container or label at hand. Dispose of contents/container in accordance with local regulation.

Bolgherello sends its products to Italy and to other countries. The delivery will be done to the address specified by the client in the order form.
Depending on the delivery country, Bolgherello is allowed to add expedition costs, always reported during the purchasing process.

Shipment to Italy



Bolgherello does not apply any shipping costs to orders exceeding 45,00€.


The shipping costs are equal to 8,00€ for orders lower than 45,00€.

Shipment outside Italy



The list of countries where Bolgherello delivers its products is indicated inside the section "Delivery information", during the check-out process.




Bolgherello does not apply any shipping costs to orders exceeding 200,00€.


The shipping costs for orders lower than 45,00€ change according to the delivery country, as stated in the following table.

Right of withdrawal



For orders placed on bolgherello.it we offer free returns within 15 days from the date of delivery. The products must be returned in their original packaging, with a label and must not have been used. The refund is processed within 7-14 business days from the date we receive the return. Refunds are issued based on the original payment method.
For more information see the Condition of Sale page.
100% made in tuscany
Produzione artigianale
Il nostro obbiettivo è quello di comunicare tramite i nostri prodotti le bellezze della nostra terra natia, la Toscana. Per questo motivo abbiamo deciso di non delocalizzare le fasi di produzione e confezionamento, mantenendo tali attività all'interno della nostra sede operativa di Castagneto Carducci, nel cuore della Costa Degli Etruschi. Ogni fase della lavorazione viene infatti affidata ad esperte mani artigiane, in modo tale da assicurare la genuina autenticità che solo il Made in Italy sa donare.